FOR THE GENERAL PUBLIC TO PURCHASE
How can I buy Nicole Barr at retail?
Click on Stockists at the bottom of the home page to find a Jeweler in your area or complete the Contact us form and we'll be glad to recommend a store near you -
FOR RETAIL JEWELERS TO PURCHASE
How do I open a new account?
Retail jewelers (only) can open an account with us by:
Clicking on "Sign In"
Filling out and submitting the "Retail Dealer Form" found under NO ACCOUNT to register
We will then confirm approval of your account by email.
Once you receive our approval email, Login with the email address and Password you provided in Step 1. You will then be able to view wholesale prices and/or order.
For U.S.A. submit Application for Commercial Credit (unless paying by Credit Card or Paypal) . For United Kingdom or other non-USA jewelers, see UK Trading Terms.
Designs are handmade to order, therefore delivery is usually 3-4 weeks from order date.
Questions? Contact us by email or call 1-877-810-7312 (USA).
Is there a minimum order?
No.
What if I order and the product isn't what I was expecting?
We want you to be happy with everything you order from us. We'll give you 14 days to return any silver item that isn't what you were expecting. Just give us a call to let us know why, and for return authorization.
**Note: We do not accept returns on 18K Gold designs.
What are your trading terms?
USA: Net 30 with 3 trade references of suppliers you deal with on terms.
UK or other non-USA: Proforma.
OUR PRODUCTS
What is fired or vitreous enamel?
We use fired vitreous enamel for most of our jewelry, whether 925 silver or 18k gold. Fired enamel is powdered glass that has been fired in a kiln at temperatures of up to 1600°F which melts the glass into a liquid. As it cools, it becomes a solid piece of color, like the panes in a stained glass window which never change color or fade. Jewelers like Faberge and Lalique used vitreous enamel.
Enamel on jewelry can fade. Will your pieces do that?
No. The enamel used in Nicole Barr jewelry is fired glass and not the epoxy (or soft enamel) that most companies use. It's color that will last as long as the gemstones. There is one exception. RED is a difficult enamel color and is best left out of the hot sun of a show window.
Is enamel fragile?
Although durable, enamel jewelry must be handled with care, like a fine glass sculpture. We include a jewelry care leaflet with each piece of Nicole Barr explaining best care practices and for safe keeping suggest it's best to store these precious pieces in the original gift box when not being worn. You'll want to treat all enamel jewelry as you might a fine opal.
Will your sterling silver designs tarnish?
Not under normal conditions. We rhodium plate all of our silver designs including the chains to inhibit tarnishing. If necessary, pieces can be cleaned with a soft cloth.
Is your jewelry Nickel Free?
Our jewelry meets the current standards for Nickel content as set by the EU.
Are your diamonds Conflict-Free?
Yes. We comply with the Kimberley Process for purchase of non-conflict diamonds.
What is the quality of your diamonds?
Our diamonds are brilliant cut, "G" in color, and VS1 for clarity.
Do you use genuine gemstones?
Yes.
Is all of your jewelry Ethically Produced?
Yes. Nicole Barr jewelry is created by the skilled enamelers of Thailand, in our American owned and managed facility located in Thailand. We are committed to providing fair wages and working hours, health care, training and a comfortable, safe environment where each person has the opportunity to reach their best potential. Our employees, many of whom have been with us for over 20 years, take pride in their work and we feel privileged to have them be part of our old-fashioned 21st century company.
Why do you enamel onto 18K gold?
Enameling is possible on 14K, but Master Enamelers like Nicole Barr choose 18K to create the most beautiful, lasting colors you'll see in this rare and exquisite art form. On lower karat gold, like 9K, the vitreous enamel will react with the alloys in the metal.
MARKETING
We have many tools in place to help you promote the Nicole Barr line:
A) Professional Videos
B) Readymade Ads
C) Low and Hi Res Images
D) Regular social media posts for you to share from our pages in Facebook, Instagram, Twitter, Pinterest, You Tube and Linked In.
E) We offer Margin Manager which enables you to show the complete Nicole Barr Online Catalog on your tablet or your own website -- but with YOUR retail prices. If you need help, we can set this up for you in 5 minutes or just login to do it yourself.
F) Printable wholesale Price-list and Thumbnail catalog in our Downloads section (available to retailers only).
What are some of the selling features of the jewelry?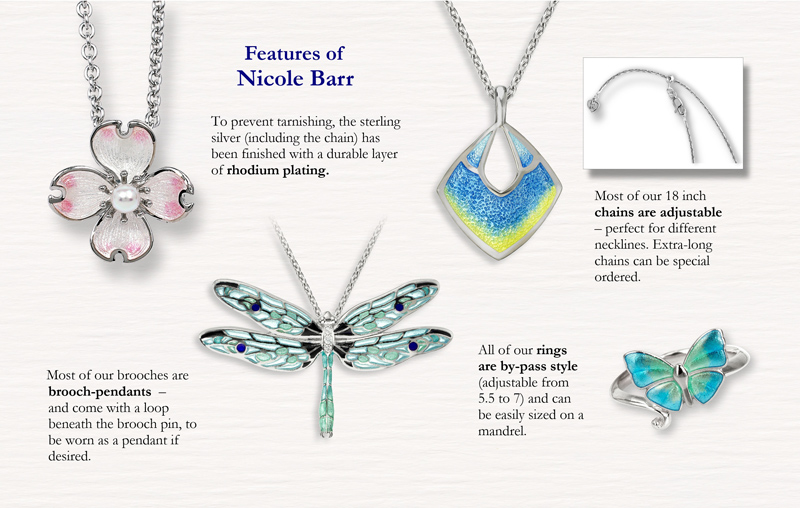 We offer a Branded Display and Packaging.
There's no better way to let your customers know that you are a Nicole Barr Exclusive Stockist than with a branded display.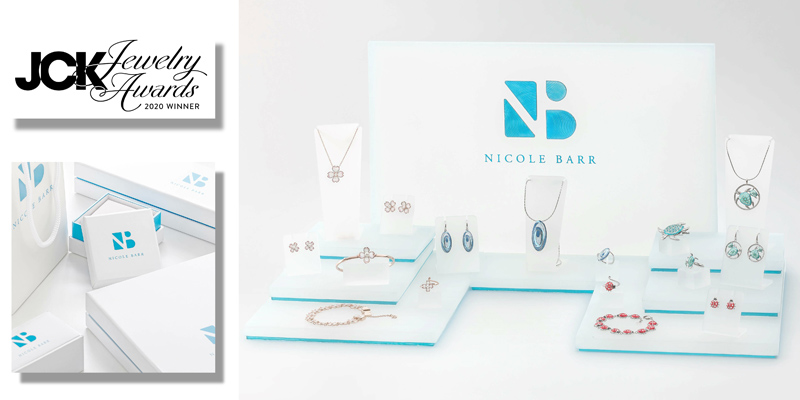 Arrange by color, theme or whatever your vision may be.
Available free with a $2000 order. Limit 1 free display per store.
Click here for more details or contact a sales representative.
CUSTOMER SERVICE
We have experienced office staff who can be reached 9:00 a.m. - 4:00 p.m. Monday-Friday. 877 - 810 - 7312 or us-info@nicolebarr.com
What guarantees do you offer?
We guarantee that all jewelry shipped to you will be free of any damage or defect. If you find a problem with any piece (within 14 days of receiving your order) just call us so we can arrange a return and re-ship you the design.
What happens if a customer returns an item to be repaired?
We are able to do a bench repair on most items. Talk with your sales representative or our office staff for a quote. Allow 5-6 weeks for repair and return.
Do you offer a Custom Design and Manufacturing Service?>
Yes. Please ask for a free quote. Minimums are 100 per design for sterling silver,
3 per design for 18K Gold.
Click to Download our Custom Spec Sheet Form for quote submissions:
XLS FORMAT or PDF FORMAT